PaperWeight: AfterHours II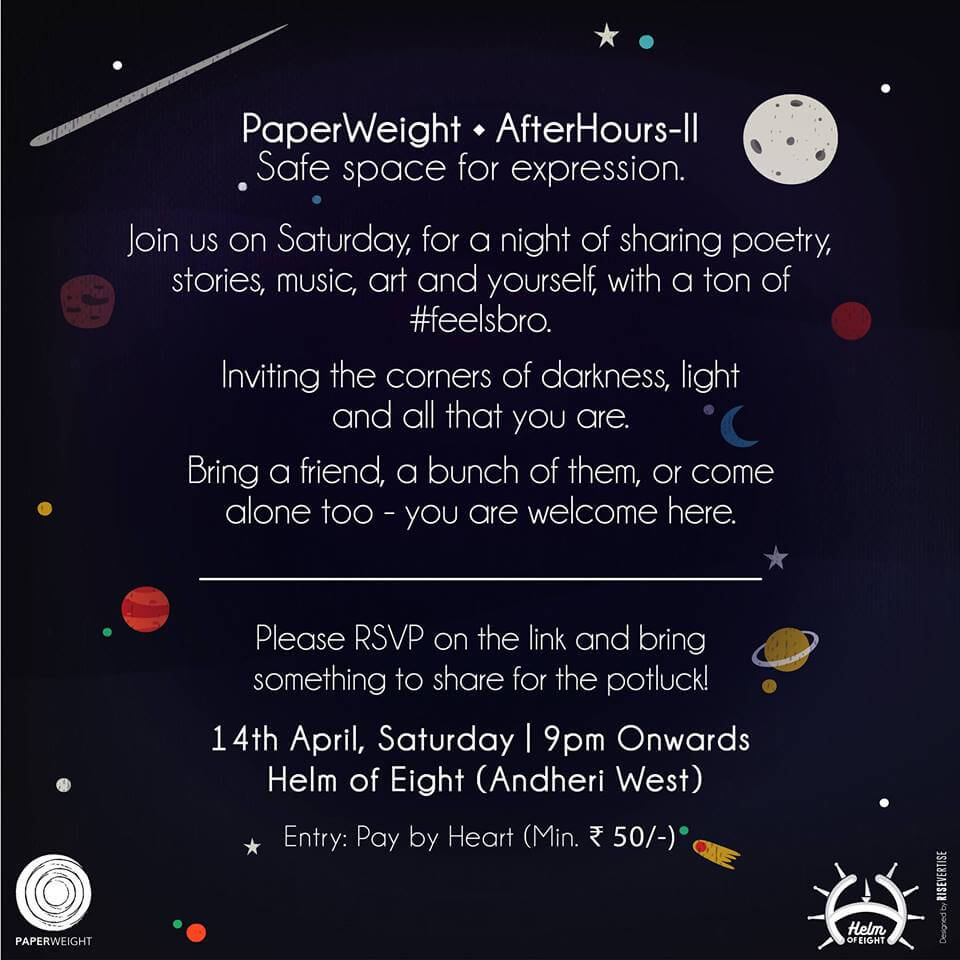 April 14, 2018 @

21:00 - 02:00
₹

50

Helm of Eight




Andheri West, Mumbai 400053
This Event Has Concluded.
Why not sign up for more updates on such events?
PaperWeight is back with our 2nd edition of AfterHours!
the 14th of April (SATURDAY) from 9 PM - 2 AM.
Come join us for yet another lovely night of sharing poetry, stories, music, art and yourself, with a ton of #feelsbro.
Inviting the corners of darkness, light and all that you are to share with us.
We believe in transparency, and thus wanted to highlight that we have kept the minimum contribution as Rs. 50 (minimum we need to keep the space going), we do hope your contributions go beyond that (for all those who can and wish to) =)
If anyone who would like to come along and cannot contribute that amount/has any trouble with it - please write to us.
We want this space to always be accessible for you, while making it more sustainable for us too.
We are dedicated to creating a safe space, that allows for open expression, discourse, giving and sharing with one another.
P.s- To RSVP, please use the link. This will confirm your seat as well as we know to expect you. Owing to limitation of space we can only accommodate 40 seats. If you wish to walk in we will do our best to accommodate you, but be prepared to huddle!
Please note: Out of respect to the sanctity of the Safe Space and the people, alcohol and substance is prohibited in the space.
About PaperWeight:
We are dedicated to creating a safe space, that allows for open expression, discourse and giving and sharing with one another.
We have hosted 14 heartwarming sessions thus far, and can't wait for another lovely Saturday evening with you all.
We keep an open mind towards all life forms (Somebody please bring a dog/cat/turtle. Please.)
About Helm of Eight:
We are a troop of storytellers, designers, humanists and scientists, coming together - to build and sustain safer, braver communities. We create space to engage with every identity of an individual and the collective.
Helm of Eight is an ecosystem - equal parts a playground and a movement to better the human condition. We collaborate with artists, curators, resource persons and organisations to create meaningful experiences.
We engage in the cross-pollination of:
Arts & Culture
Human Resource Development
Holistic Living
Design & Technology
Social Enterprise
Civic Engagemen